You Had One Job 2021 Day-to-Day Calendar (Calendar)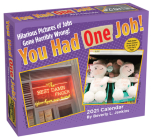 Description
---
The You Had One Job! 2021 Calendar gathers the funniest pics from around the internet and combines them with delightfully snarky captions by humor writer Beverly L. Jenkins for a year's worth of hilarious on-the-job fails and missteps.
How did they mess that up? Sure, everyone makes mistakes, but some blunders are so ridiculous you just have to laugh. Featuring fails ranging from badly botched signs to the dumbest DIY disasters, each daily page showcases classic flubs on jobs big and small that are sure to make you shout, "You had one job!"
Features include:
Full color tear-off pages 
Daily Extra on the back of each page—fun puzzles, trivia, activities, and more
Day/date reference on each page
Includes official major world holidays
Recyclable plastic easel backer for desk or tabletop display
About the Author
---
Beverly Jenkins is a humor and pop culture writer with a background in television news production. She specializes in spotlighting the most hilarious web content and has a knack for bringing web-based humor to print. She has written several books and daily calendars about funny web trends, from photobombs to hilarious job-related fails. She has also written extensively for About.com, ThoughtCo, CollegeHumor, Oddee, and Photoshop Disasters.