Thomas Kinkade Special Collector's Edition with Scripture 2021 Deluxe Wall Calen: Reflections (Calendar)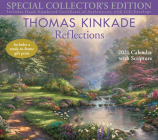 Description
---
Thomas Kinkade Special Collector's Edition with Scripture 2021 Wall Calendar features beautiful full-color paintings by Thomas Kinkade Studios, which carries on Thomas Kinkade's legacy of creating and sharing beautiful images that evoke a sense of peace, inspiration, and gratitude—reminding us all of home, family, and the places and things that make us happy.

This deluxe calendar comes in a matching full-color envelope and includes a hand-numbered certificate of authenticity placed in a vellum-like envelope. Each monthly spread shows an image such as Reflections of Family, Everett's Cottage, or Christmas Moonlight, along with a King James Bible verse. There is also a September through December 2020 pre-planning spread. As an added bonus, you'll find a lovely 8 ½ x 11 print suitable for framing. The print featured in this calendar is Hometown Bridge .
 
About the Author
---
Thomas Kinkade the Painter of LightTM, emphasized simple pleasures and inspirational messages through his art—and the branded products created from that art. From textiles, to collectibles, to music and books, Thom believed that both the ability and the inspiration to create his paintings had been given to him as a gift. His goal as an artist was to touch people of all faiths and to bring peace and joy into their lives through the images he created.